Wearing: F21 top | Old Navy jeans | Zara heels | Warby Parker glasses | iPad case used as clutch c/o Alicia Klein | Harlow Arrow Bangle c/o Poshlocket | Regina Sparkle Bangle c/o Poshlocket | J.Crew pave link bracelet | H&M Gold mini cuff | Macy's Chunky Gold Bracelet (similar) | t+j designs pave tip cord bangle | Baublebar earrings | Baublebar Monogram Necklace (similar) | Revlon 'Coral Crush' lip color
This is actually a really old outfit- I chose this because these are my absolute favorite heels, and I don't own them anymore! I sold them a few weeks ago, and although it was bittersweet, I was glad to recycle out my closet. If you ladies don't use
Poshmark
, you should definitely check it out! It's free to download 😉
The lovely Jacqueline and I post our link-ups every Thursday! This week our theme is outfits that feature favorite heels! Come back weekly to visit us! (Click after the break to link-up!)
HOW TO LINK-UP: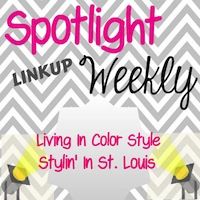 1. We kindly ask that you follow the two hosts: Elle from Living in Color Style and Jacqueline from Stylin' In St. Louis via Bloglovin or GFC, and our co-host this week is Carly of Lipgloss & Crayons, so make sure to follow her too! (The first three links in the link-up.)
2. Use the button provided on Elle or Jacqueline's side bar or link back to the link-up on your blog.
3. Enjoy reading other blogs and make new blogger friends!
This week's Spotlight is Darcy from
A Memory of Us
! How stylish is her plaid and fur!? Make sure to stop by her
blog
to see it, and say hello!
NEXT WEEK: Next week we are featuring polka dots! as our spotlight trend! We'd love to see how you style your favorites, whether you're rocking them alone or mixing them up! Thank you so much for reading, and for linking up!
(function() {
window.PinIt = window.PinIt || { loaded:false };
if (window.PinIt.loaded) return;
window.PinIt.loaded = true;
function async_load(){
var s = document.createElement("script");
s.type = "text/javascript";
s.async = true;
if (window.location.protocol == "https:")
s.src = "https://assets.pinterest.com/js/pinit.js";
else
s.src = "http://assets.pinterest.com/js/pinit.js";
var x = document.getElementsByTagName("script")[0];
x.parentNode.insertBefore(s, x);
}
if (window.attachEvent)
window.attachEvent("onload", async_load);
else
window.addEventListener("load", async_load, false);
})();
(function(i,s,o,g,r,a,m){i['GoogleAnalyticsObject']=r;i[r]=i[r]||function(){
(i[r].q=i[r].q||[]).push(arguments)},i[r].l=1*new Date();a=s.createElement(o),
m=s.getElementsByTagName(o)[0];a.async=1;a.src=g;m.parentNode.insertBefore(a,m)
})(window,document,'script','//www.google-analytics.com/analytics.js','ga');
ga('create', 'UA-41934175-1', 'livingincolorstyle.blogspot.com');
ga('send', 'pageview');